The Icefield Parkway is one of the most scenic road in the world.
For 250km on the Icefield Parkway, you are driving though a valley, passing an icefield, going along turquoise rivers and seeing incredible waterfalls.
It can be overwhelming to get informations on where to stop and how long it is going to take you.
I made a little recap for you right there!
Valley of the five lakes
This is the first board you will see if you are driving from Jasper (and the last if you are driving from Banff). It is a short walk in the forest with stops at green lakes. Walks can be around an hour or more if you want to explore and for families. it goes up and down but from what we have done, it is never for very long nor very steep! If you don't have much time, you can skip it in my opinion. Little warning, there was a bear on the trails 5 minutes before we visited, so be bear aware with your bear sprays and make lots of noise!
Athabasca Falls
I have to say that on the Icefield Parkway, the waterfalls are VERY accessible. They almost always are 2 minutes walk from the parking. Athabasca Falls don't make the exception. Of course, you can always go a little further in the canyon and see where the water used to be.
I wouldn't skip those falls because they are so impressive and they have this incredible views of a mountains in the back. This is one of the most iconic spot on the Icefield Parkway!
Sunwapta falls
Again, these falls are very accessible and don't need no hike to get there from the parking lot.
I can't make up my mind if I prefer the Athabasca falls or these ones because both have that majestic presence. Same as the previous one, I wouldn't skip the Sunwapta falls, it is a short and beautiful break.
Columbia Icefield & Athabasca Glacier
Ok this is very personal and maybe controversial but do not do the skywalk. I don't understand why people spend so much money on it, to not even see the glacier from the top!
I advise you to go for a short drive break and walk up to where the glacier is now.
Along the path you will see all the dates where the glacier was before. The first time I visited the Athabasca glacier, it was in 2014, and when I went back in 2018…. You can see a HUGE difference between the two.
I am very environmentally aware and I try my best to go as green as I can, and when I see this, it breaks my heart.
I hope visiting places like this glacier, people will open their eyes on what climate change brings and that each of us can do a little to help our beautiful planet earth.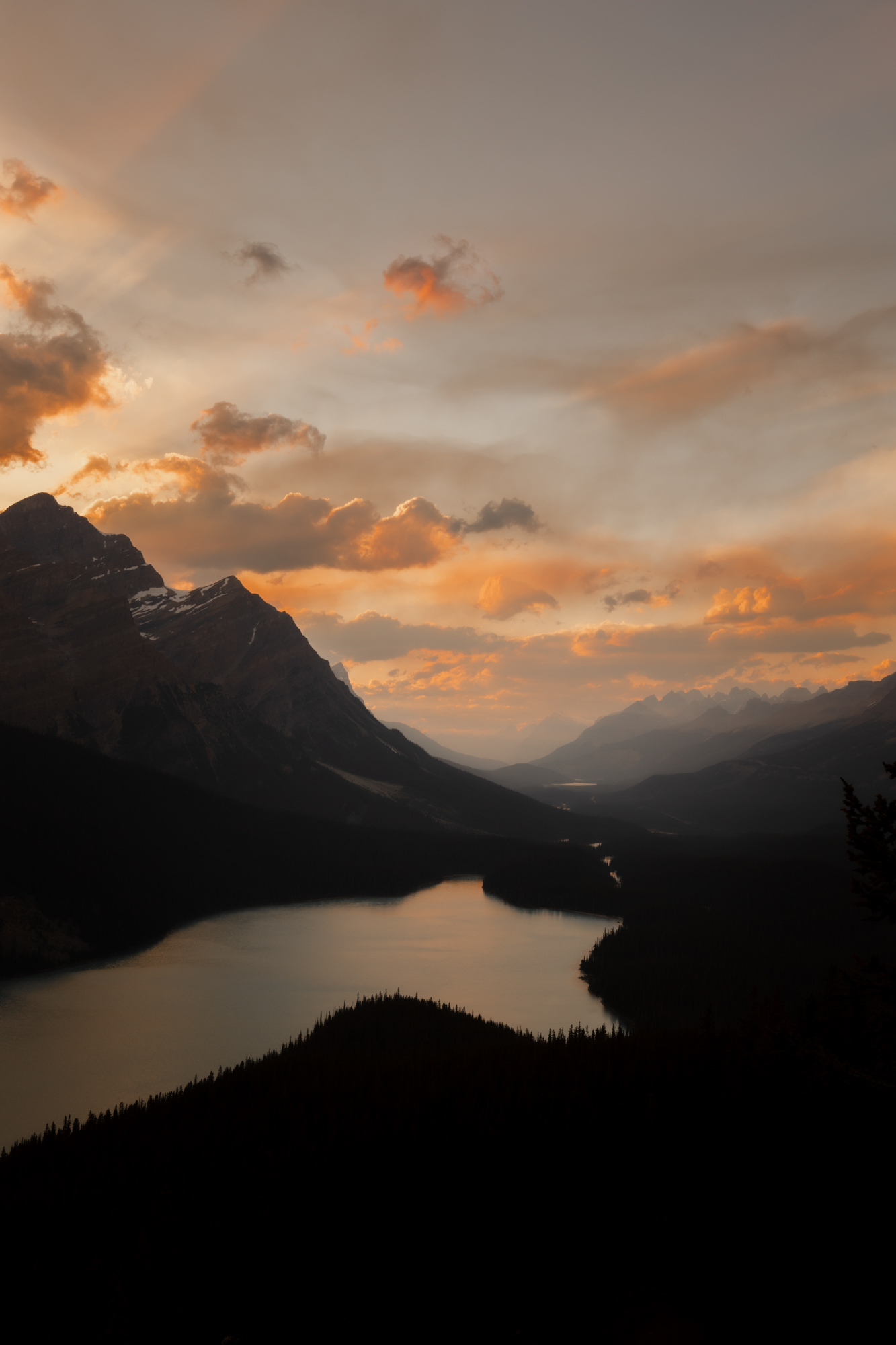 Peyto Lake
Oh my gad, oh my gad.
If you don't know it by now, Peyto lake is MY FAVORITE point of view of the Rockies.
I never see the "dog shape" that everyone is fuzzing about but I do see a "claw/paw shape" instead, so still in the dog area but not exactly the same.
This is a stop TO NOT MISS. If you had to do only ONE thing on the Icefield Parkway, that is the one I would recommend to do. There is an upper parking lot for handicaps and buses, otherwise the lower parking lot brings you to a steep (it is a bit steep so take your time and be prepared) 20 minutes hike up to the view point.
There are ways to be alone at Peyto Lake but I don't want to spread the word too much so if you are interested, send me a DM on instagram!
My favorite time there is sunset – but I still have to go check it out for sunrise – any couple interested for a sunrise at Peyto Lake? 🙂 Contact me
Emerald Lake
Emerald Lake is located in Yoho National Park (not on the Icefield Parkway) but it is 100% worth the detour.
I have no idea how crowded it will get this summer but last summer it used to be the least crowded lake around. Same color as Louise, you can also canoe on it. There is a nice hike all around the lake (that you can also do in winter in snowshoes!) that I recommend.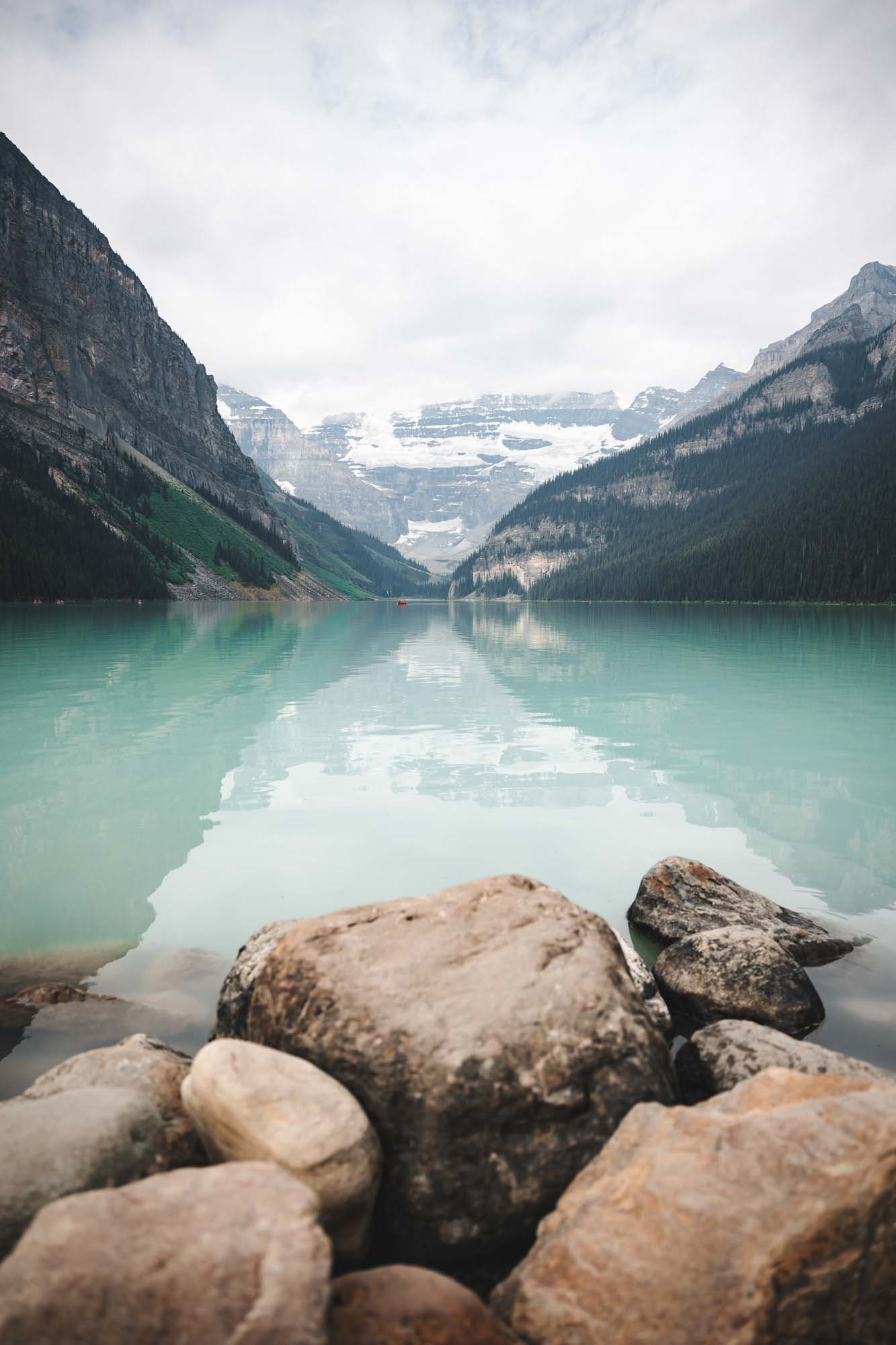 Lake Louise
Technically, Lake Louise is not on the Icefield Parkway but it is also considered on the drive.
This is the most famous lake in Canada (ok maybe Moraine Lake over came Lake Louise because of Instagram, should be a though fight).
I work there this summer and what can I say… Yes it is really beautiful! It gets crowded VERY quickly during the day though so I would advice to come before 9AM where it is still manageable to walk and feel a bit alone.
The nice thing about Lake Louise is the hikes around. You can do quite big ones like Big Beehive or Devil's thumb or you can do shorter ones like the plain of the 6 glaciers or just go to the tea house. BE PREPARED though. Bring water, bug spray and a hat. You will need hiking shoes for the Big Beehive and Devil's thumb.
(If you are around Lake Louise this summer, stop by the Banff Photography office! I will be there 🙂 )
Moraine Lake
Ah… Dear Moraine Lake.
I love you but I hate you.
I went in 2014 to Moraine Lake and it was midday and there was NO ONE. We were basically alone around the lake, my friend and I. We had driven the whole Icefield Parkway and Moraine Lake was our last stop before Banff. Guess what? We didn't even make it to the "viewpoint". We were not that impressed by the lake after seeing 1000 other ones before. We wanted to hike around but we needed to be 4 people and there was no one to come with us… Yeah, that is surprising right?? And that was only 9 years ago!
Today, we cannot drive to Moraine Lake anymore. You have to book a shuttle or get a private company to drive you. I am thankful I could go last year for sunset and finally see the viewpoint everyone talks about. This year, I will be a photo tour guide at Moraine Lake every Sunday of the summer! I cannot wait I have to say!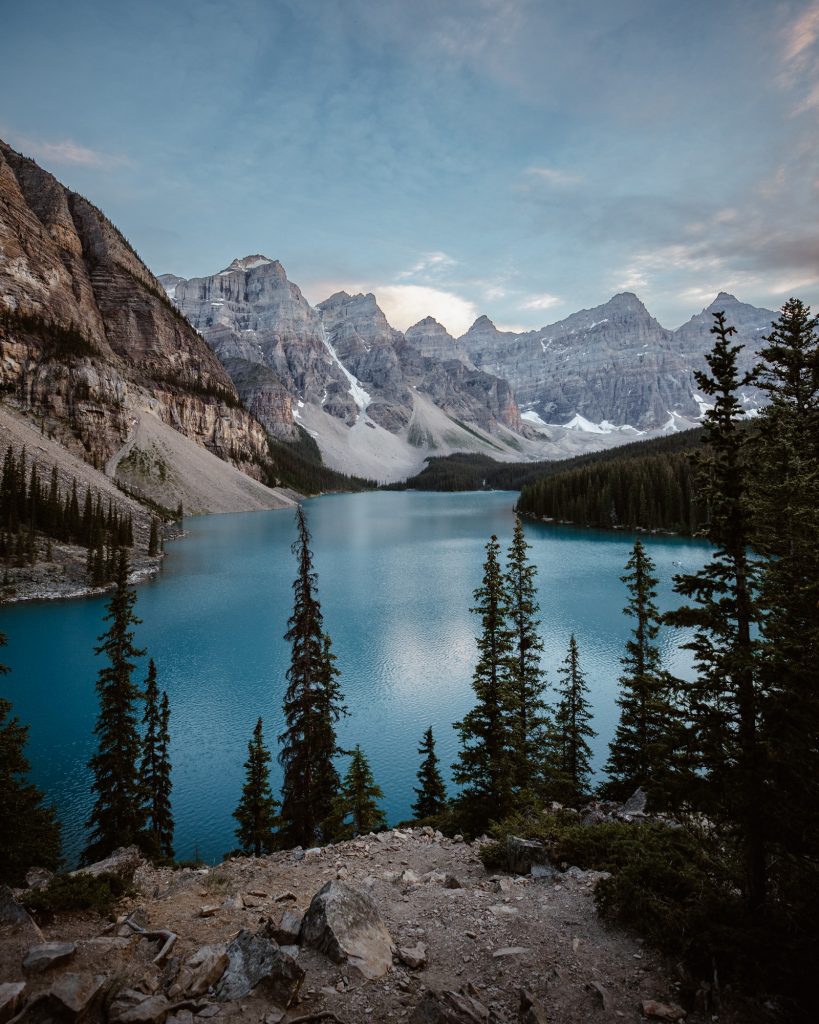 If you ever wanted to get a photo session in any of those places, feel free to reach out 🙂
I do adventure sessions through the summer all over the Icefield Parkway!
Canoe, Paddle boards, Hikes, Camping… Name it and I will make it happen 🙂
Start your adventure